Elder Quentin L. Cook was born, September 8th, 1940 in Logan, Utah and is currently a member of the Quorum of the Twelve Apostles.
In 1960, Elder Cook was called to go on a mission to England where he served, preaching the gospel of Jesus Christ, until 1962. After returning from his mission, Elder Cook went on to earn a bachelor's degree in political science from Utah State University in 1963 and then a juris doctorate from Stanford University in 1966.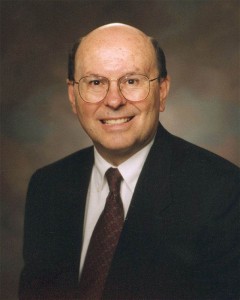 Elder Cook met his wife, Mary Gaddie Cook, while in High School. After his return from his mission to England, they were married, and together they raised 3 children.
Although born and raised in Logan, Utah, Elder Cook spent 27 years living and working in northern California. He spent a number of years working as a managing partner at Carr, McClellan, Ingersoll, Thompson and Horn, a law firm in the San Francisco area. He then went on to serve as CEO of California Healthcare System.
In April 1996 Quentin L. Cook was called to serve in the Second Quorum of the Seventy and then in April, 1998 to the First Quorum of the Seventy. More recently, Elder Cook served as executive director of the Missionary Department, where he was managed the Church's missionary program. It was in February, 2007, while he was serving in this capacity, that four missionaries in Nigeria were abducted. Elder Cook played an important and notable role, coordinating with local Nigerian leaders to facilitate the release of the four Elders.
On October 6th, 2007, Elder Cook was called to serve in the Quorum of the Twelve Apostles, filling a vacancy left by Henry B. Eyring's call to serve in the First Presidency.
This article was adapted from MormonWiki.com/Quentin L. Cook.