Numerous passages from the scriptures teach that there will be a time when we will be called before God to be judged. Revelation 20:12 says,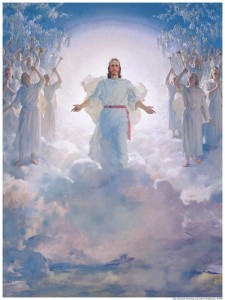 "And I saw the dead, small and great, stand before God; and the books were opened: and another book was opened, which is the book of life: and the dead were judged out of those things which were written in the books, according to their works" (other references include: Doctrine and Covenants 76:111, 1 Nephi 15:32, Abraham 3:25-28). Doctrine of The Church of Jesus Christ of Latter-day Saints (commonly referred to as the Mormon Church) teaches that there will be a literal final judgment.
The Last or Final Judgment has received this name because there will be and have been other judgments prior to this final judgment. Before this life our spirits were judged and found worthy to come to earth and experience mortality. When members of the Mormon Church are ready to receive certain ordinances such as baptism, their worthiness is judged. After death, our spirits are given a partial judgment and are assigned to either spirit paradise or spirit prison. This assignment however, is temporary and only lasts until the final judgment.
How will we be judged?
Mormon doctrine teaches that we will be judged by three records: those that have been kept on earth, those kept in the book of life (which is a record kept in heaven), and by our own records. A lesson from the teaching manual Gospel Principles, printed by the Mormon Church, further explains how we are record keepers of our lives,
"There is another record that will be used to judge us. The Apostle Paul taught that we ourselves are the most complete record of our life (see Romans 2:15; 2 Corinthians 3:1-3). Stored in our body and mind is a complete history of everything we have done. President John Taylor taught this truth: '[The individual] tells the story himself, and bears witness against himself. . . . That record that is written by the man himself in the tablets of his own mind–that record that cannot lie–will in that day be unfolded before God and angels, and those who sit as judges' (Daniel H. Ludlow, ed., Latter-day Prophets Speak, pp. 56-57)."
Who will judge us?
In John 5:22 it explains that Heavenly Father has delegated the responsibility of judgment to His Son Jesus Christ. Christ will then call others to help Him in judgment. The original Twelve Apostle that Christ called will judge the twelve tribes of Israel, as explained in Matthew 19:28:
"And Jesus said unto them, Verily I say unto you, That ye which have followed me, in the regeneration when the Son of man shall sit in the throne of his glory, ye also shall sit upon twelve thrones, judging the twelve tribes of Israel."
What is the purpose of judgment?
The purpose is to assign individuals to a kingdom. "We will be sent to one of four places: the celestial kingdom (the highest degree of glory), the terrestrial kingdom (the second degree), the telestial kingdom (the lowest degree), or outer darkness (the kingdom of the devil–not a degree of glory).