The Mormon Battalion
In 1846, the United States was fighting a war with Mexico. Captain James Allen was asked to enlist approximately 500 men from the Mormon Pioneers to help. The members had many reasons to not enlist. The U.S. government had failed to protect Mormons from being driven out of their homes by mobs in Missouri and Illinois. Because of this most of the Saints were poor, and they were about to cross the plains to an unknown land somewhere in the west. However, Brigham Young encouraged the men to enlist. He knew that the money they would earn would help their families and other poor Saints. He also knew that it would show the United States that members of the Mormon Church were still loyal to their country.On July 16, 1846, 541 men enlisted in the army, and they were called the Mormon Battalion. Some of the men's wives and families joined them. There were 32 women and about 50 children who accompanied the Battalion. The army hired 20 of the women as laundresses. Brigham Young encouraged the men to be the best soldiers in the army, to be clean, neat, and polite. He promised them that if they obeyed God's commandments, they would not have to fight.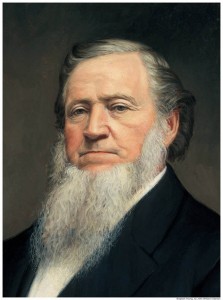 The Mormon Battalion left a few days after enlistment. It was difficult for many of the men to leave their wives on the plains of Iowa, without homes, and with the task of crossing the country to Utah. However, Brigham Young assured the men that their families would be taken care of while they served their country.
The Battalion traveled to Fort Leavenworth to get supplies and then began a long trek southwest to California. The Mormon Battalion made the longest march on foot in U.S. military history: 2,000 miles. When they finally reached the Pacific Ocean on January 29, 1847, they were overjoyed.
By this time the Mexican War was over, and many of the men were assigned to work in California to finish out their year of service. They built Fort Moore, a courthouse in San Diego, and made bricks and built houses in southern California. All members of the Mormon Battalion were released from duty on July 16, 1847. A few reenlisted for another eight months, but most began their journey back to Utah to be with their families. On their way back, many helped in building flour mills and sawmills for money to send to their families. Men of the Mormon Battalion were also the first to discover gold at Sutter's Mill that started the gold rush.  While a few stayed behind to mine for gold, most of the men continued on to Utah.