Family Search
Family Search is the Mormon Church's non-profit website devoted to family history research and is available to anyone interested in learning more about their family history.The Family Search website provides records gathered over the last 100 years. Family history work is important because Mormons believe that families can be sealed together forever through work done in Mormon temples.  The work done in temples can also be done for those who have died without the chance to do the work for themselves.  According to Mormon belief, persons may then choose to accept or reject the work done for them. In order for such work to be done, members must be able to identify their ancestors.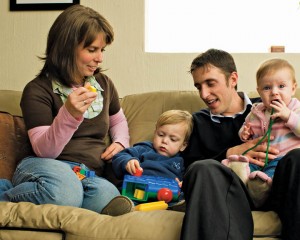 When registering on the site (which is free) it will ask you for Church membership information, but this is optional and can be left blank. The website then provides you with the choice to share records with people, so that other people searching for their family history will have access to them.  From the Family Search website, you can download family history software at no charge.  The software is called PAF (Personal Ancestral File), and from it you can print pedigree charts and family group records.
If you are just starting family research, reading the information titled "How do I get started?" on the right hand side of the screen will give you some tips on what you will need to research your family's history. If you are stuck and cannot find anything, another option is to locate a Family History Center in your area. Like the Family Search website, the services offered at Family History Centers are free, and there is a place on the website that will direct you to the nearest center. There are volunteers there who can help you locate information you might not find otherwise or explain how to get started.